We offer professional Chinese paintings services in Singapore: calligraphy mounting, photo printing on scrolls & paintings scanning. Cheap, fast, quality services from imaging to printing to mounting onto traditional Chinese painting hanging scrolls.
While shopping in Singapore, you might often come across Chinese paintings for sale. However, try looking for a shop that helps you print a specific Chinese painting, picture or photograph, and then mounting onto Chinese painting hanging scroll – you might not get any luck! This is where we come in and make things simple.
In the past, to ply in the trade of Chinese painting collection, in the long term, would require immense amount of wealth. However, with the advances in replication & printing technologies, "Chinese painting Giclée prints" are a great alternative that is much more affordable & also safer (no scamming). As long as the original scan is high quality, Chinese painting Giclée prints can replicate Chinese paintings worth millions of dollars (subjected to copyright clearance) and there might not be visible difference by the untrained eyes!
It is because of this reason, we are pushing hard to usher Chinese paintings into homes, all at the convenience of home for our customers.
Customers only need to email us at artprints.sg@gmail.com
Send us the artwork or scanned manuscript
Or for Chinese paintings from artists who have past away for more than 70 years, just quote us the artist and Chinese painting name, we can attempt to seek if there are legal usable soft copies in our database
After which, we will ensure the artwork is suitable for the size of Chinese painting hanging scroll you picked, or offer alternatives sizing and advise
We will provide a photoshop preview to ensure that there are no surprises, and proceed to print and mount once we get your approval
When job is complete, delivery can be arranged for you, or you can choose to pick up to save on delivery cost. Our one-stop shop service allows you to get fine art all without leaving home at all!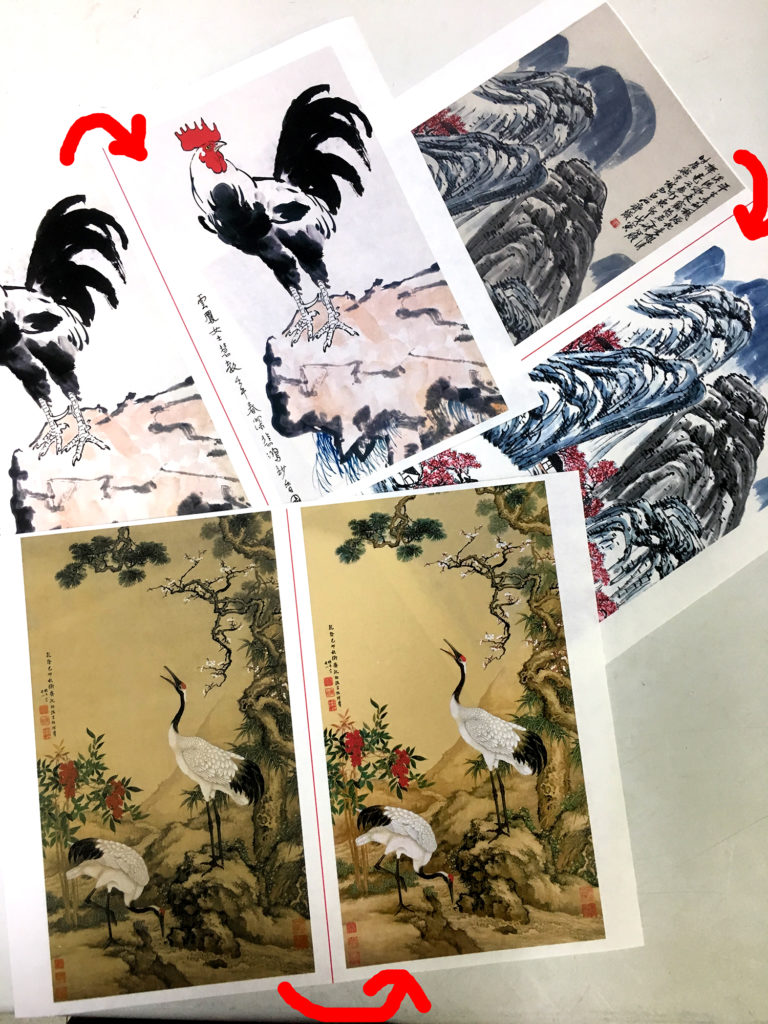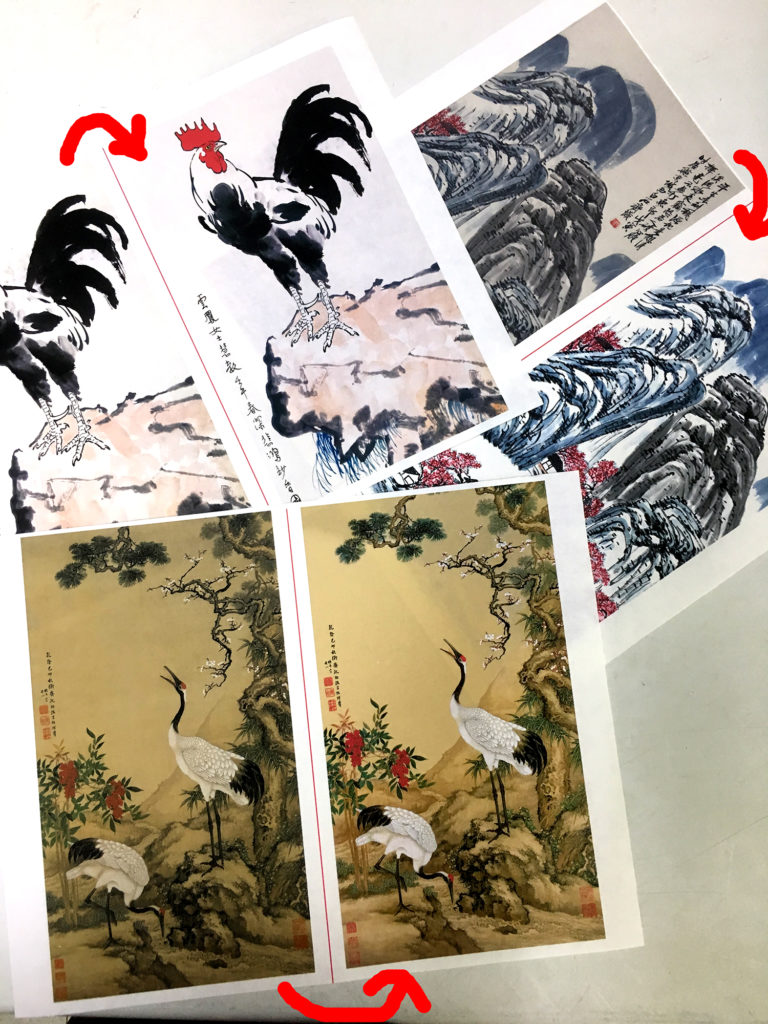 At our workshop, we create professional looking Chinese painting scrolls – they are so high quality that you can view and collect them as if they are the original Chinese painting – without the high cost and old / decayed look!
Of course, we do not claim that they are original Chinese paintings hand drawn by the artist – that would be counterfeiting ; however that is also why all Chinese painting scrolls that we sell are brand new.
The biggest reason to get Giclee Chinese painting prints with us now? You can be the new trend setter, since this is something that doesn't exist in Singapore – YET!
Chinese calligraphy writing can also be reproduced on these hanging scrolls.
Estimated turn-around time from confirmation of order : 48 hours.
We pay attention to every step of the creation of a Chinese painting hanging scroll.
First, let us go through the parts of a Chinese hanging scroll.
Parts of a Chinese Hanging Scroll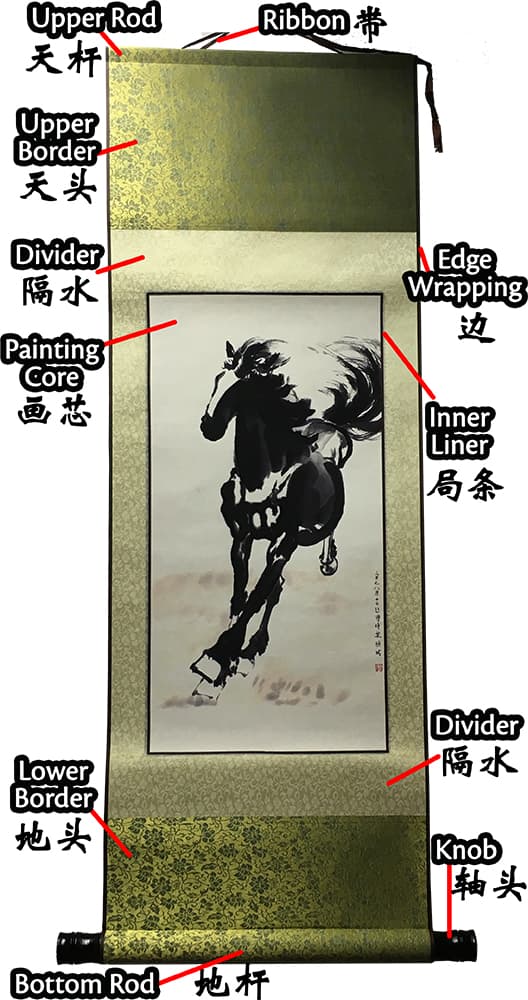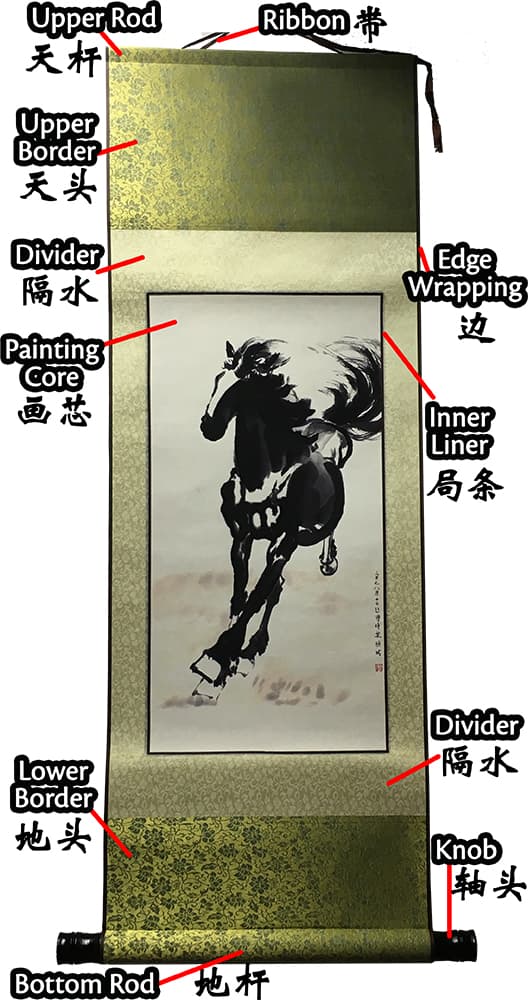 As per photo illustration, both the upper and bottom rods are crafted with actual solid wood.
All Chinese painting hanging scrolls from us are wrapped in Damask cloth on both upper and lower borders, as well as the dividers. This way, the whole hanging scroll is not only durable, but also looks exquisite and elegant. Once you have a look at the normal scrolls easily available in Singapore, you will know that ours is better!
Chinese Painting core, as per all prints from us, is made by top-notched Giclée printer. If found to not be genuine, we will gladly give you the Chinese painting for free and refund the money!
On all our Chinese painting hanging scrolls, we use inner liner and edge wrapper to protect both the edge of the painting piece and the edge of the hanging scroll respectively. If you find a hanging scrolls without all the above mentioned feature – then that is definitely not our product!
Below is a comparison of more details of our hanging scroll and the commonly found hanging scrolls
Chinese painting scrolls, due to their long age and culture, would get more or less get damaged as they are passed down the generations. Our team would. when situation permits, do our utmost to repair and touch up scanned paintings to remove common defects seen in old Chinese paintings, like smudging of colour, paper turning mouldy and yellow spots. As per illustration below, after our hard work, the parts of the scanned painting on the right hand side looks almost brand new!
The difference in our scroll quality starts even before you open up our painting scroll for viewing. When you take up one of our Chinese painting scroll, you will immediately see the difference – the top backing of our scroll, when rolled up, is protected by Damask cloth, unlike the common ones that are paper. This is one of the unique features of our scroll.
On the back of the scroll, we also have a label that specifies the type of material used to print your scroll, as well as key information (if you are purchasing Chinese painting replica from us) pertaining to the work, the artist etc.
Our team always seek to give our customers a 110% effort!
Also Related :