Canvas printing in Singapore using high-end Giclée printer to personalise beautiful affordable canvas. $50 up ; 36 hrs finish. Online order & Courier available. We let you get everything without leaving home! Our service dedication is also second to none, so your canvas prints are in great hands!
Also known by the variations: canvas printing, stretched canvas printing & Giclée printing.
In Singapore & all over the world, canvas printing is fast becoming a popular solution among customers to both beautify their homes and transform their walls.
In Singapore, the term "Canvas Printing" generally has an implicit meaning of "printing and mounting over stretcher bars", also called stretched canvas in short.
Don't like how raw & unprotected stretched canvas look? Order a customised frame around it and you got a beautifully framed canvas!
If you are on this page, congratulations, you have come to one of the best canvas printing studio in Singapore. We take all our canvas prints seriously. Our goal is to see every customers leave happily with their prints, an irreplaceable joy on the corner of their lips.
What's Canvas Printing?
Artist's Canvas are traditionally used by artist for oil painting. A canvas sheet's durability and rough texture helps bring an oil painting "to life". Advances in technology have led to printers with microscopic-level print heads that can "draw" (print) detailed photographs onto canvas – the detail level is better than laser printers! Also, with our canvas which are textured on the surfaces, they would help bring out a 3D feel to any prints – this can be especially great for oil paintings & even photographs – the higher the level of details, the more the print would appear realistic on the finished product!
Why print on Canvas then when I can do so on photo paper?
Printing a photograph on textured canvas brings out an artistic feel in photographs that is not achievable by plain smooth paper. For that piece of special memory that you have, don't you want viewers to go "Wow" and also share that intense emotional moment that you experienced when your photograph was taken? The texture of canvas will just do that – make objects pop out more – especially the smaller details – they will be reflected even more lively than how a computer screen can depict them!
Canvas sheet are also tough & durable, making them much more resistant to finger print marks, careless handling, and accidental water spillage etc.
Gallery wrapping is our customers' favourite way to finish a stretched canvas, because it helps the picture to pop out more from a wall.
The more traditional way to print on photo paper and have them framed has it's merits – better protection among them. However, they are heavy and bulky and overtime the glass protecting the artwork can pose as a hazard themselves. Our canvas prints are coated with a laminate that provides the basic protection – enough for most scenarios that the "artwork behind glass" can achieve.
What image is suitable for Canvas printing?

Canvas prints are versatile enough to look good both with and without frames – what's more, they stand out beautifully and are ready-to-hang. They are not limited by content type.
Most people in Singapore print photographs onto canvas ; some print oil painting reproduction onto them ; others print computer graphics like Photoshop and Illustrator files onto them ; some even print Chinese paintings onto them – and they all look equally nice!
Modern smart phones have such high camera resolution that even a non-professional photographer can take photos of several megapixels. This allows easy access to even the most non-tech-savvy people to great, beautiful, self-taken photographs. With that high-res photo file in hand, just approach our friendly team for help, and we will help you create the next most beautiful canvas hung on your wall to show off your skill and to share the joy of your happy memories!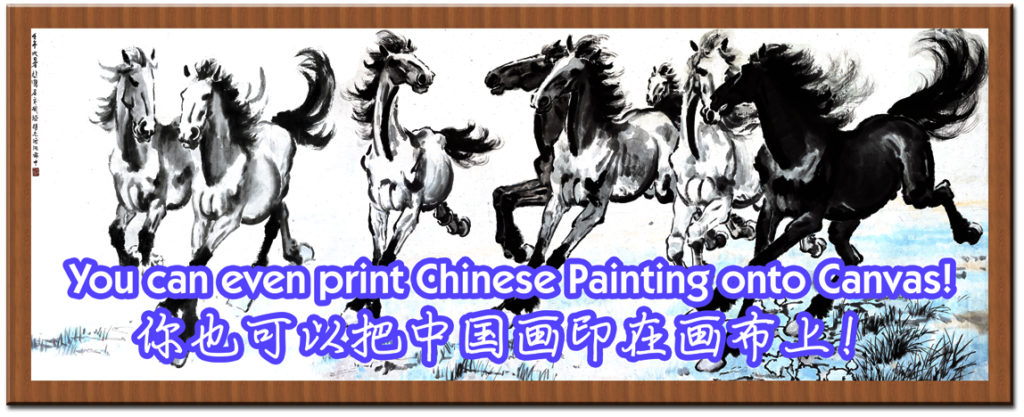 Types of Canvas Material
Common canvas material on market are made of either Cotton, Polyester or a chemical fibre from a blend of both.
Cotton canvas allow for the ink to seep into the cotton fibre, thus allowing for longer lasting prints. Archival canvas are all made from cotton, therefore it is no surprise that Museums also uses cotton canvas for most of their prints.
Polyester canvas costs less compared to cotton canvas and are not as archival. However, they yield prints that appear more vivid, as the ink would remain on the surface of the material.
Canvas Sizing
Unlike traditional photo frames, there is no one fixed sized canvas – it depends on the artwork and also the place it will be hung at. See our quick canvas sizing guide for some inspiration.
Our canvas are flexible within the common combinations of 12″, 16″ 20″, 24″, 28″, 32″, 36″, 40″.
i.e. you can pick 12″ x 40″, 12″ x 28″, and so on.
We also cater to other sizes, but the above stated are the most commonly requested sizes. For more information of other sizes, please email us.
Our Canvas Printing Process
Printing alone does not finish a canvas. We pay attention to each step of our canvas making process, doing out utmost to give customers a finished product that they will proudly show off for years to come.
Image processing

Our team has vast experience spanning over 20 years with vetting images. We can offer advise if the image is not suitable or how best to enhance it to bring out the most beautiful side of an image – be it adjusting the contrast slightly or making the image a tint less red etc. Advise is free, so are very minor adjustments (more would be chargeable) – and we want our customer to only hang up their best canvas prints in their home!
We also provide scans for artist for their artwork at 600x600dpi resolution, with complimentary basic color adjustment when choosing to "Art Scan".

Printer Used

A printer is like the hand of an artist – therefore which printer you use determine hugely how good your prints would look.
We use Epson large format printer with archival ink ; it is able to print with 10 different colours.
There are a total of 8000 micro print-heads in this printer, with the smallest possible droplet size being 3.5 pico-litres. This ensures detailed, accurate colour output with wide gamut range. For more detail please click here.

Ink Used

We guarantee that we use 100% Epson original UltraChrome Pro ink on each and every canvas prints. The result is a rich, vibrant colour output.
This is something that a lot of canvas print makers omit, as ink prices are one of the most costly running cost of this business. However, since we specialise in art printing – there is no way that we will use fake ink.
Any prints found to not be using genuine Epson ink, will be fully refunded and you can keep the print for free!

Canvas printing skills

Just owning an awesome printer is not the end of the story. The skill of the machine operator will also determine what kind of final product is created. We like to view each individual piece of print as an art in itself even though the process is mechanical. Our well-trained operators are able to bring out the true potential of you photos by using different settings under different situations. See illustration on the right hand side for one such instance. Using the same printer : The photo on the left hand side was printed on canvas by a junior – it looks relatively beautiful. However, look again at the right hand side printout – this canvas was done by our staff. Notice how the latter picture has much more details and a much richer print? The difference is like looking through a glass, and being in the scene in person.

Canvas material used

We allow our customer several choices of material (at varying costs). However by default, we believe in not spending when not needed, thus we offer to customers a much more economical, but equally beautiful option for canvas. Should you have deep pockets, you can pick from our other higher grade certified archival canvas materials, like Hahnemühle & Sihl Masterclass. Otherwise, we recommend sticking with the economical option – we have tried plenty of canvas to come at this one economical option that has performance similar to that of higher grade canvas – and without the huge cost burden! That is of course, unless you are a professional 🙂

Canvas surface protection

On the surface of all non-glossy canvas, we apply a thin coat of protection.
This prevents erosion, fungus, accidental rubbing from fingers. This also increases the light fast effectiveness. If dust accumulated on the canvas surface over time, all you need to do is use a wet cloth and wipe it lightly – and it would look brand new! It's that simple!

Canvas wrapping style

Majority of our canvas are gallery-wrapped, with the image on the sides either a continuation or a reflection of the main content. This style is the most popular as it helps the canvas look more 3D. Customer can also opt for a solid colour on all sides.
Hand-stretching is done on every canvas to ensure that there are no damages to the canvas due to over stretching.

Canvas Frame

Our canvas are made from high quality Russian Scots Pine. There are many benefits of using such wood, and they are durable, beautiful and lightweight. Our canvas frames are bevelled – rounded on the corners, rather than a squarish one. This tiny but important detail can go a long way in how durable your canvas is. (For more details, click here for an in-depth article)
It minimise damage via abrasion on the corner of the canvas. With rounded corner stretcher bars, should you decide one day to change canvas frames, the canvas will still be ok without a line mark that is usually left on the canvas by normal squarish stretcher bars.

Canvas Hanging Hook

We use specialised hanging hook that are well designed to withstand weight and also shaped to not scratch either the canvas nor the end user.

Protected canvas hanging wire

The hanging wire behind the canvas are all plastic coated to ensure maximum protection to our customers and the canvas print – the last thing you want would be to get hurt from the wiring, or have the wiring "poked" a hole in another canvas when you have them stacked on top of each other when moving homes.

Canvas framing tape

We use framing type on finished canvas prints, so as to seal the canvas to the frame properly.

Canvas packaging

All canvas are bubble wrapped to ensure their safety whilst transporting. All four corners of the canvas are also wrapped by a piece of cardboard in the event where a hard object hits the corner of the canvas, only the cardboard is damaged and not the canvas.

Our client's satisfaction is our utmost goal!
Also Related :